---
---
How to Start a WordPress Blog on Siteground
Blogging is an excellent way for making extra money and people who have embraced it before have received passive income that allowed them to quit their current jobs. There are different paths you can take on blogging. You can make money using affiliate marketing or blog about your passion and other areas of interest. Once you are prepared to start blogging, the first thing you will have to do is to look for a host.
Web hosting is very important since it is what makes your blog accessible to any visitors who are looking for information about what you offer. One web host that we usually recommend to new bloggers is SiteGround. It involves much more than just hosting your website or making it live on the internet.
What is so unique with SiteGround?
Unlike other types of web hosting, SiteGround offers fantastic hosting including WordPress hosting. Furthermore, their prices are very reasonable and you will benefit from their wonderful customer services. No one would want to spend so much money on hosting when they are just getting started and SiteGround offers a great option of Starting WordPress for cheap.
The beginner plan typically costs $3.95 per month and they have always gone below that price occasionally. You can even lock in their rates for a period of three years! Besides offering a cheap web hosting service, it allows you to start your blog very easily. You wouldn't want to go through tedious and tiresome procedures while setting up your blog account for the first time.
Another reason why many bloggers are obsessed with what we see from them is that there are very few complaints about this company. SiteGround is highly recommended by experts if you are a new blogger in search of web hosting. Since you are now prepared to start blogging, here is our SiteGround tutorial to start earning great income as a blogger.
Procedure on how to start a WordPress blog on SiteGround
1. Choose a Hosting Plan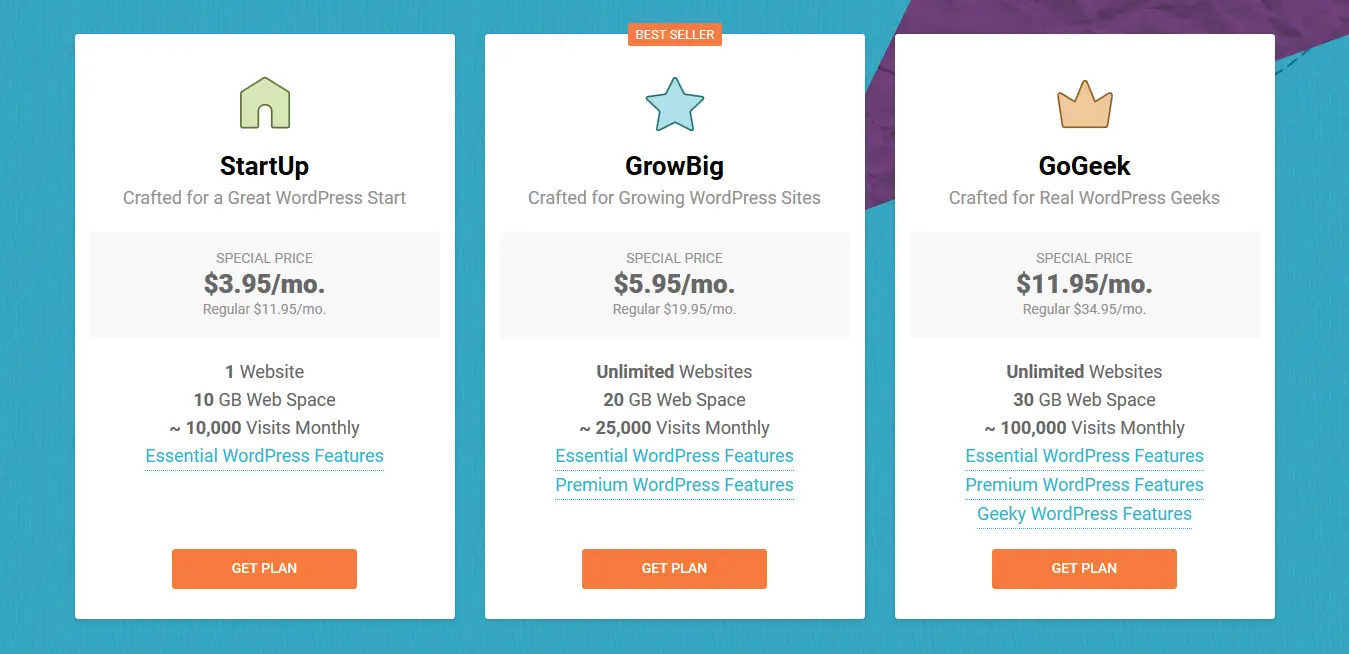 Before we go into many details, the first thing you need to do is to visit SiteGround's official website and select a hosting plan that suits you best. If you have not made a decision yet, consider these guidelines;
The StartUp Plan
It is a perfect plan for those who want to launch only one website. You get 10 GB of space and it is preferable if you are receiving less than 10,000 visits per month.
The GrowBig Plan
Here, you can create multiple websites on your hosting platform. It is really great value and you will be given WordPress SuperCacher which improves website speeds in Joomla and WordPress. The 20 GB of space is great for bloggers receiving at most 25,000 visits per month. This plan is equipped with a basic backup service and restore.
The GoGeek Plan
A perfect plan for individuals with e-commerce and larger sites or pursue things like GIT integration and staging. It makes it possible to host a variety of sites. You get a premium backup and restore service inclusive of a manual restoration by the SiteGround team. 30 GB of space is a big bonus for those receiving at most 100,000 visits per month.
We recommend starting with the StartUp Plan and you can always scale up when you are receiving many visitors and need more space.
---
---
2. Choose a domain name
You can now register for a domain name since you have picked out a plan. Before you even get to this point, you should have chosen a perfect blog name for your website. We highly recommend selecting one that your visitors can easily remember after visiting your website for the first time. There are two options - you can Register a New Domain for $14.95 through SiteGround or transfer one over for free once you start the registration process.
3. Fill in your information
Now that you have chosen a domain name, the next step is to enter all of your important information. Don't leave blank spaces in areas where information must be provided.
4. Choose the length of your initial plan and extras
SiteGround allows you to choose the period that you will pre-pay for its hosting services at the introductory rate. It is possible to lock this rate for a period of three years, a great option that is not offered by other hosting services. There are some hosting services that allow you to lock in the introductory rates only for the first year before it rises gradually afterward.
You can choose other extras such as SG Site Scanner for $19.80 per year or Domain privacy for $12 per year. Neither of these two is a necessity but you can always choose Domain Privacy if you were to get either of them. Domain Privacy will prevent your personal information such as your phone number and address to be accessible to the public.
5. You have just created your account!
SiteGround will create an account for you once you pay the final bill. At this point, you own a web hosting account and a domain name. Let's now show you how you can get started with WordPress!
6. Start the SiteGround Account Setup Wizard
You will be prompted by SiteGround to set up your new WordPress blog before installation. It is very simple to get things going with the SiteGround Account Setup Wizard. Choose "Start a new website" option to get started and then hit the "Proceed" button.
7. Website preferences
You will indicate the type of blog you are setting up and the platform you would like to use while on this screen. There are many other options but this tutorial was "how to start a WordPress blog on SiteGround".
8. Log-in details for your WordPress
SiteGround Account Setup Wizard will install WordPress on your server since you had selected this option on the previous screen. However, the first thing you need to do is to set up your log-in information. Take a username that is not particularly obvious since most hackers spend most of their time trying to hack into blogs. Using your name or a set of numbers in a chronological order creates a terrible username and password.
9. Make it beautiful
There is an option of selecting a free web design template which will be installed at the same time SiteGround installs WordPress on your server. You can always change your template at any time with thousands of free ones available. Normally, you get one standard theme that is installed when setting up a new website. SiteGround provides you a variety of options and you can always choose your favorite template.
10. Access your new website – Start Blogging
This is probably the final step since you are ready to get things going. Enter your login information to gain access to your new WordPress dashboard. SiteGround has an easy-to-use interface and you won't need any other help. Basically, it is fool-proof and very easy to do it by yourself. Although you paid for hosting, you managed to set up a WordPress blog without any charges.
If you have any questions or feeling a little lost, there is no need to worry. You will receive a call from SiteGround the next day. Just checking on you if you need any help. What a wonderful customer service!
Conclusion
SiteGround is definitely one of the best hosting companies that allow you to start a WordPress blog for cheap. It is a reliable web host that has made most bloggers successful over the years and you can always be successful too. Now that you have a WordPress blog, it is time to write quality and meaningful content that can drive more traffic to your site. You can always scale up to the GrowBig and Go Geek plans if you are receiving more than 10,000 visits per month.